Great Question! I get this all the time & of course I'd love to say "YES" but it's not for everyone. If it's not for you there are plenty of other types of exercise you can do during your pregnancy to keep you fit, healthy, help you prepare for labor & of course bounce back faster after baby.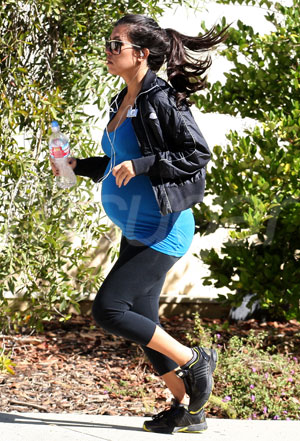 Kourtney Kardashian Going For A Run Pregnant
Here are the guidelines I teach by:
ALWAYS… LISTEN TO YOUR BODY
You should only consider running during your pregnancy if you were a runner BEFORE you got pregnant – Now is not the time to become a runner, you can do that after baby 🙂
Running should feel good, if it's painful or you feel ligaments pulling then it's not a good idea & I would suggest walking instead (something low impact)
Never run to exhaustion. Remember your baby needs to breathe too!
Stay hydrated & never run in hot weather
Wear supportive tennis shoes
Slow your pace
Try wearing a support belt, especially if you are still running during the end of your 2nd & 3rd Trimesters
Avoid Sprinting
As your pregnancy progresses you may have to slow down even more, decrease your running time, or just walk all together
If you weren't able to run during your 1st trimester due to nausea or just plain fatigue you can still run during your 2nd providing all the above if you must, otherwise I'd just walk…
Your not trying to get in shape during pregnancy but rather maintain as much muscle mass & cardio endurance as you can. Whatever you lose/gain during pregnancy can all be balanced again after baby 🙂
*Check with your Doc to make sure you are cleared to exercise during your pregnancy*
STOP Exercise If you experience any of the following:
Vaginal Bleeding
Difficulty Breathing
Dizziness
Headache
Chest Pain
Muscle Weakness
Calf Pain or Swelling
Preterm Labor
Decreased Fetal Movement
Amniotic Fluid Leakage
For more info: Why You Should NOT Exercise During your Pregnancy
It's less than a years time you may need to take a break from running. If your body's telling you not to run then you shouldn't. Running never felt good during either of my pregnancies so I resorted to lots of walking, elliptical and pilates.
More info on Exercising During Your:
2nd Trimester
3rd Trimester
Have fun staying fit during pregnancy, it's well worth it in the long run 🙂
~E
P.S. while my Prenatal DVD's don't contain any "running" they will help you feel all those deep muscles you need to help prepare you for labor & life as a mom!